Vacuum cleaners, which are a basic home necessity these days, no one can imagine a life without them. They not only keep the house clean, they also help keeping it fragrant, by removing the bad smelling tidbits from the deepest crevices of your house.  Sometimes it may happen that even the top vacuum cleaners end up giving off a bad smell. And if the vacuum cleaners start giving out a bad odor themselves, then the whole house will eventually start to smell bad. These bad smells can originate from those tidbits, they can be anything from moldy coffee grinds in the bag to pet hair that have ended up clogging your vacuum cleaner. This may sound like the ultimate nightmare, but luckily you've stumbled upon the right article where we will tell you a few tips on how you can easily keep your vacuum cleaner from smelling bad simply by keeping the insides clean, and that takes the minimal of efforts.
Here are some ways you can keep your vacuum clean.
If you use a vacuum cleaner which uses bags, then change them. It is usually the stinky bags which cause the vacuum cleaners to smell bad. In other case, if you have a bag-less model, then clean the canister that it uses to store dirt, and wash the filters with soapy water, drying them completely before reassembling them.
If your vacuum continues to stink, then try disassembling the machine. It usually happens that bits and pieces clog the works and valves, e.g. pet hair, if you have them.
Make a mixture of baking soda and water. Clean the vacuum's container, hose and filter with the prepared mixture, then wash with water. Let the filter's air dry, and wipe the rest of the things with a cloth. Make sure that all the components are completely dried before reassembling them.
Fit your new vacuum bag with a dryer sheet or pieces of orange peel through the hole that attaches the bag to the vacuum. In case that you use the canister variety, then fit the sheet or orange peel in the filter cavity. Whenever the vacuum is used, it'll give out a fresh scent.
Other options to keep your house smelling sweet is to sprinkle orange or vanilla extract onto a paper towel, then tear up the towel and vacuum it up. Another way is to sprinkle cinnamon or ground potpourri directly onto the floor, and vacuum it up, to keep the scent fresh and prevalent around your house.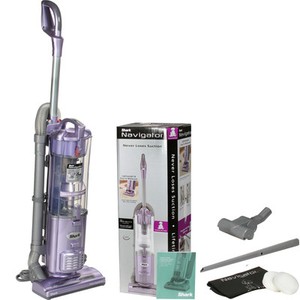 Things You Will Need
Vacuum bag
Soapy water
Baking soda
Cloth
Dryer sheet, or orange peel
Paper towel
Orange extract, vanilla extract, ground cinnamon or ground potpourri
Warning
If you smell your vacuum, giving out a hot or mechanical smell, this could mean an electrical fault. These can cause fire hazards and pose a risk of electric shock, therefore, to call an electrician would be the best thing to do before you use it again. Follow these simple steps and keep your house smelling fresh and clean.